NOTICE!!!
- - THE POST IS NOW OPEN EVERY DAY OF THE WEEK. - -
The "Raise the Roof" event was a huge success.
We did it. Enough money was raised so the roof will be repaired and sealed in the very near future.
This was only possible due to all the generous members, visitors, volunteers and some amazing community support.
Bellow is a list of local businesses that donated to our fundraiser.
Big-T, Cowboy Bob, Manatee Marina, Twisted Tuna, Home Depot, Pinch A Penny Pools, Manero's Restaurant, Lost Lake Golf Course,
The Champion Golf Course, Heritage Ridge Golf Course, Stuart Dentistry, Cruise Planners, Auto Geek Car and Boat Detailing, McKee Car Detailing Supplies, Sweety's Ice-cream and More, Max's Bagels, CVS, Dunkin Donuts, Carrabba's Italian Grill, Sister Nail Salon, Stuart Car Wash, Southern Pig and Cattle, Sonny's BBQ, Whistle Stop Diner, Scooter's Fun Food and Spirits, Hobe Sound Deli.
SEPTEMBER 2021 MEETING SCHEDULE
-Cooties Meeting, Monday, 10/4, 5:31
-Auxiliary Meeting, Tuesday 10/12 6:00
-House Committee Meeting, Tuesday 10/19 4:30
-Post Meeting, Thursday 10/21, 6:30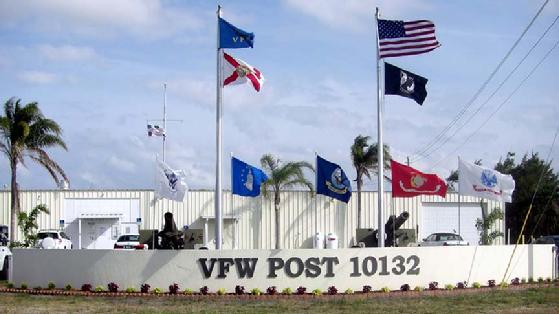 Hall-Bryan VFW Post 10132, Hobe Sound, Florida



Hall-Bryan VFW Post 10132, Hobe Sound, FL

-

Serving the Veterans of Foreign Wars in Martin County, Fl. Military veterans and their spouses, sons and daughters are welcome to be a part of our Post. The letters "VFW" symbolize volunteerism and community service. The VFW mission is to "honor the dead by helping the living" through veterans' service, community service, national security and a strong national defense.



Help us complete our Memorial dedicated to the Veterans!