NOTICE!!!
POST 10132
- - THE POST IS NOW OPEN EVERY DAY OF THE WEEK. - -
- - THE BAR WILL BE OPEN ALSO AT THAT TIME. - -
Please see below for details.
JANUARY 2021 MEETING SCHEDULE
-Auxiliary Meeting, Tuesday, 1/12, 6:00
-House Committee Meeting, Tuesday 1/19, 3:00
-Post Meeting, Thursday 1/21, 6:30
Commanders Message
Comrades,

I am pleased to report that the Post is now open every day of the week and is now allowed to serve alcohol in the Canteen.
- - Sunday Breakfast will be served 9:00 to Noon (see "Canteen" to view the menu.). The Post will be open until 7:00 on Sunday's.
- - The Post will be open Monday through Saturday 11AM-7PM (Friday till 9PM)
- - 3-Card Bingo will be played on Monday's and Thursday's at 2PM starting in January..
- - Wednesday's will feature Pizza from 4:30PM-6:30PM. With music by Our Time 5-7+PM.
- - Friday we will our Fish menu 4:30-7:00PM with Karaoke by Cowboy Bob 6-9PM.
The bar will be open so come on in and get reacquainted with our bartenders.
* Social distancing will be enforced and you are encouraged to wear face masks.
Please check back often. I hope to see you all soon.
Your Commander
News From the Auxiliary:
Hello Brothers and Sisters,
Happy New Year!
We hope you all are doing well.  We are up and doing good. 
Please be safe.God Bless our Veterans and Troops and their families.
God Bless America.
Rosie Haines
Post 10132 News
Green Market Every Sunday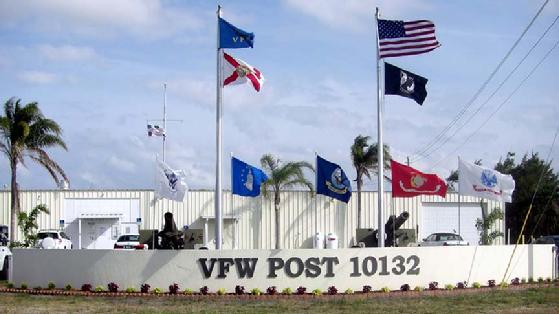 Hall-Bryan VFW Post 10132, Hobe Sound, Florida



Hall-Bryan VFW Post 10132, Hobe Sound, FL

-

Serving the Veterans of Foreign Wars in Martin County, Fl. Military veterans and their spouses, sons and daughters are welcome to be a part of our Post. The letters "VFW" symbolize volunteerism and community service. The VFW mission is to "honor the dead by helping the living" through veterans' service, community service, national security and a strong national defense.



Help us complete our Memorial dedicated to the Veterans!